Page of Chinon ES-1000 / Kodak DC-20
[Japanese] [English]
---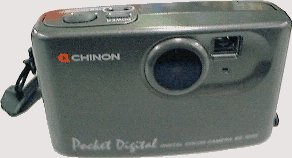 I have recently bought a digital camera called Chinon ES-1000. Here are some related pages that I found:
---
Pages in English
My own pages
DC-20 information
---
Pages in Japanese
ES-1000 information
DC-20 information
---
I have no connection with Chinon, Kodak Japan, and Eastman Kodak. All the information provided here are collected or prepared independently and I can't guarantee correctness of them.
---
Please send questions and comments about this page to hideki@teikan.net.